Trip Overview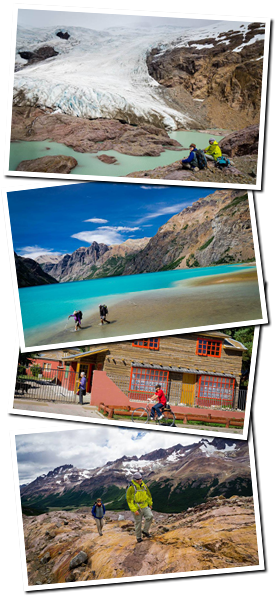 Trek Wild Chile
Savour Chile's wild, remote and stunning trekking, step back in time in remote island fishing villages of Isla Grande de Chiloe, and finish with a road trip on the spectacular Carretera Austral. This is an active adventure holiday with day hikes and a 5-day porter-assisted backpack; island, beach and lake explorations; and plenty of time to soak up the warmth of the Chileans, the flavours of their cuisine (and yes, their wines and pisco sours!) and some most lovely hosterias and lodges.
Our fun little group will gather at the airport in the port city of Puerto Montt midday on February 1, 2017. We'll hop in our 10-person van and drive and ferry to Isla Grande de Chiloe for our first four days soaking up Chilean life and island landscapes. An overnight ferry will bring us back to mainland and the next segment of our journey, highlighted with a five-day backpack in the Jeinimeni valley and Patagonia National Park, followed by a hot showers and welcome great beds at the lovely Green Baker Lodge on Rio Baker. Our journey will end in Coyhaique, on the Carretera Austral parkway on February 12, 2017. From here, guests can purchase flights back to Puerto Montt or join Martha for several more days of road trip and ferrying our van back north.
Isla Grande de Chiloe
On Isla Grande de Chiloe, we'll have three nights in a lovely boutique hotel. We'll explore islands, steep in the island culture and some fun cafes, visit exquisite wooden churches, walk beaches, look for penguins, and hike the exposed west coast Parque Nacional Chiloe or the new Tantauco park to the south. We'll taste the Chiloe specialty, curanto en tierra (a mix of seafood, pork sausages and chicken wrapped in giant panques leaves and cooked over hot stones), served with milcao, or potato pancakes. And Chilean wines of course.
Chile Chico town
On the evening of February 4th we'll board a ferry for a 12 hour tour of islands and inside passages to Puerto Cisnes on the mainland. We'll drive and ferry to our southern home of Chile Chico, where we will spend two nights. We'll have a full day to explore the town and possibly hike to the Valley of the Moon, sit in outdoor cafes and soak up some local flavour, and prepare for our five-day trek.
Five day trek Jeinimeni – Patagonia National Park
On February 7th we'll head south to Lago Jeinimeni and hike 6-7 hours to the upper Ventisqueros Valley and a new mountain hut built by our Chilean guide, Juan. We will have a porter for every two guests who will carry 12 kg/person of our things, and another porter to carry our food and wine, and five days to get to know them all! On our second day we will head to the glacier above the hut in a four hour return hike, and enjoy a pisco sour made with glacial ice!! We'll have the option to hike further to the west side of the valley and a viewpoint. Day 3 we will descend to a steppe area in Patagonia National Park and pitch 2-person tents and a big dining tent. Day 4 we'll walk to the Chacabuco Valley for our final night in tents, and on Day 5 we'll hike out to Casa de Piedra and treat our guides and porters to a celebratory dinner at the new park headquarters.
Green Baker Lodge and the Carretera Austral
We'll carry on to Green Baker Lodge on the banks of the Rio Baker where we can enjoy private hot tubs, welcome beds, and perhaps some boating. On February 12 we will carry on north up the Carretera Austral, Patagonia's most steep and spectacular highway, back to Coyhaique. Here there is an airport, and an option to fly back to Puerto Montt (Less then $200 USD) on February 14th, the official last day of our group adventure. Martha will take a couple more days to drive north to Chaiten and hop on the 9 hour ferry back to Puerto Montt, and welcomes those who would like to join her for this additional adventure.

Rates & Booking
Feb 1 – Feb 12, 2017
$4,200 USD/person
Book your spot with a $1000 deposit now, 50% refundable 3 months before departure date.
Balance also due November 1, 2016.
GST not applicable.
Groups can request custom dates for private trips (custom pricing will apply).

Included in this tour is the following:
Six nights of 3-4 star accommodation with breakfasts
Day hikes on Isla de Chiloe and Chile Chico, and 5-day backpack from Chile Chico
One porter for every two guests, who will carry 12 kg of personal gear for each guest
Post backpack dinner with guide and porters at Patagonia National Park
Meals and boating at Green Baker Lodge
All transportation from Puerto Montt to Coyhaique
Optional ferry return to Puerto Montt, or fly from Coyhaique to Puerto Montt for <$200 US
Not included are lunches and dinners while in towns, airfares, alcohol or gratuities.
On the Map
We head down to
Isla Grande de Chiloe
and stay at
Castro
, then further down to
Quellon
, where we catch a
ferry to Puerto Cisnes
. Then we drive to
Chile Chico
. Then we backpack five days to the little road along the
R. Chacabuco
and drive west, then head north to
Puerto Bertrand and Coyhaique.
Photo Gallery Chile
Photographs by Patrick Morrow.