Trip Overview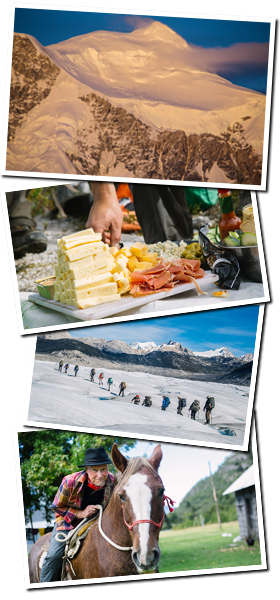 Trek Wild Chile
Meet our fun little group of 6-8 adventurous travellers and recover from long flights with two nights at Patagonia House, in the southern city of Coyhaique. Drive one hour south to the town of Cerro Castillo and hike to Laguna Castillo right at the base of this striking castle-like peak for one night of camping. Travel the truly spectacular Carretera Austral to the Baker River and remote Colonia Valley, with a river-side night at the Green Baker Lodge. Trek three hours and wade a river to arrive at Sol de Mayo, the last ranch in the Colonia valley and our base amongst the horses, sheep and hens for seven nights.
The fully operational Sol de Mayo Ranch is owned and operated by Jonathan Leidich, founder of Patagonia Adventure Expeditions and builder of 20 days of remote trails and facilities to access the Northern Patagonia Icecap via the Colonia and Soler river valleys. A native-born Coloradan, Jonathan has made Chile his home since he first climbed in this region in his 20's. Teaming up with Jonathan combines the very best of Chile's truly remote, big and glaciated Andean landscapes, with the experience of life on the edge of human settlement, and a chance to live immersed in the simplicity, exceptional warmth, and relaxed nature that defines the draw of Patagonian culture.
From our base at Sol de Mayo, we'll trek overnight to the Colonia Glacier, and explore other spectacular and rarely travelled valleys and up to summits.
After Sol de Mayo, we'll savour our new friends and adventures with a final night together at Patagonia Acres Lodge on the shore of Lago General Carrera before our homeward travels.
Patagonia Adventure Expeditions from MountainsRiversMedia on Vimeo.
Rates & Booking
January 17-29, 2018, 13 days
$5,000 USD/person
Book your spot with a $1000 deposit now, 50% refundable 3 months before departure date.
Balance also due October 1, 2017.
GST not applicable.
Groups can request custom dates for private trips (custom pricing will apply).

Included in this tour is the following:
All accommodation, meals, transportation, guides, porters, and equipment from the time of our meeting at Coyhaique, to Sol de Mayo and back to the Balmaceda airport.
Alcohol, gratuities and your air travel to and from Balmaceda airport are not included.
On the Map
We head down to
Isla Grande de Chiloe
and stay at
Castro
, then further down to
Quellon
, where we catch a
ferry to Puerto Cisnes
. Then we drive to
Chile Chico
. Then we backpack five days to the little road along the
R. Chacabuco
and drive west, then head north to
Puerto Bertrand and Coyhaique.
Photo Gallery Chile
Photographs by Patrick Morrow.