Martha McCallum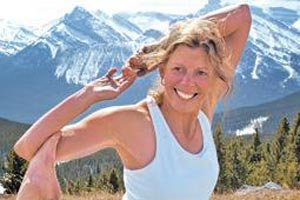 Martha McCallum has chosen to live, play and work close to nature, year-round, in the Canadian Rockies for most of her life. You'll enjoy her love for exploring and taking care of her guests in every way she can… and her knowledge of wildlife, native medicinal plants, and fine cuisine. She is a hiking guide certified by the Association of Canadian Mountain Guides (ACMG) and an active, experienced backcountry skier who has skied and hiked in Japan, New Zealand, Nepal, the Alps, Peru, Patagonia and throughout North America. She is also a wildlife biologist who has studied mountain goats, grizzly bears and wildlife corridors, a master herbalist, and a hatha yoga teacher. You'll immediately feel you are in capable hands.
Martha guides most of her heli-hikes, heli-yoga and heli-camping. She calls other guides to help for larger groups or when she is away on her longer adventures.
Tamara Dykshoorn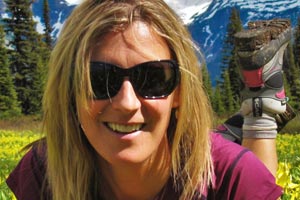 Tamara Dykshoorn is an ACMG certified hiking guide and apprentice ski guide. She would be overjoyed to take you for a day hike or overnight hike in the Canadian Mountains. She specializes in interpreting nature, retelling of local stories and getting you to new heights.
Tamara has been revered for her keen eye to spot wildlife and her warm and fun-loving demeanor.
Olivia Sofer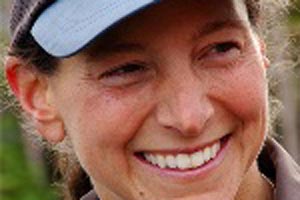 Olivia Sofer started her guiding career white water rafting on the Lachine Rapids while attending university in Montreal. Looking for more excitement, she began leading river expeditions in remote areas of British Columbia and Alaska. She then added to her skills by becoming an ACMG Backpacking guide and Assistant Ski guide. She is very familiar with the day hikes in the mountains near Canmore, and she has led many overnight trips in the Canadian Rockies and Interior Mountains of British Columbia. She has an interpretive guides' certificate, and is fascinated with geology, flora and fauna. In the winter she works in the ski guiding industry and teaches skiing. Olivia adds great organization and interpretive skills to any wilderness trip. She is an excellent leader who has a fun yet serious approach to mountain adventure. She is bilingual (French English) and also speaks Spanish.
Larry Stanier
Larry Stanier is an internationally certified (UIAGM) mountain guide with over 25 years experience in the avalanche business and guiding skiing, rock, ice and alpine climbing in Canada and around the world. He loves his work! Larry or one of his colleagues will guide Lake of the Falls bouldering and rock climbing days.
Martha hires additional certified guides and yoga teachers as required,
all of whom are delightful to hike with in the Rocky Mountains.